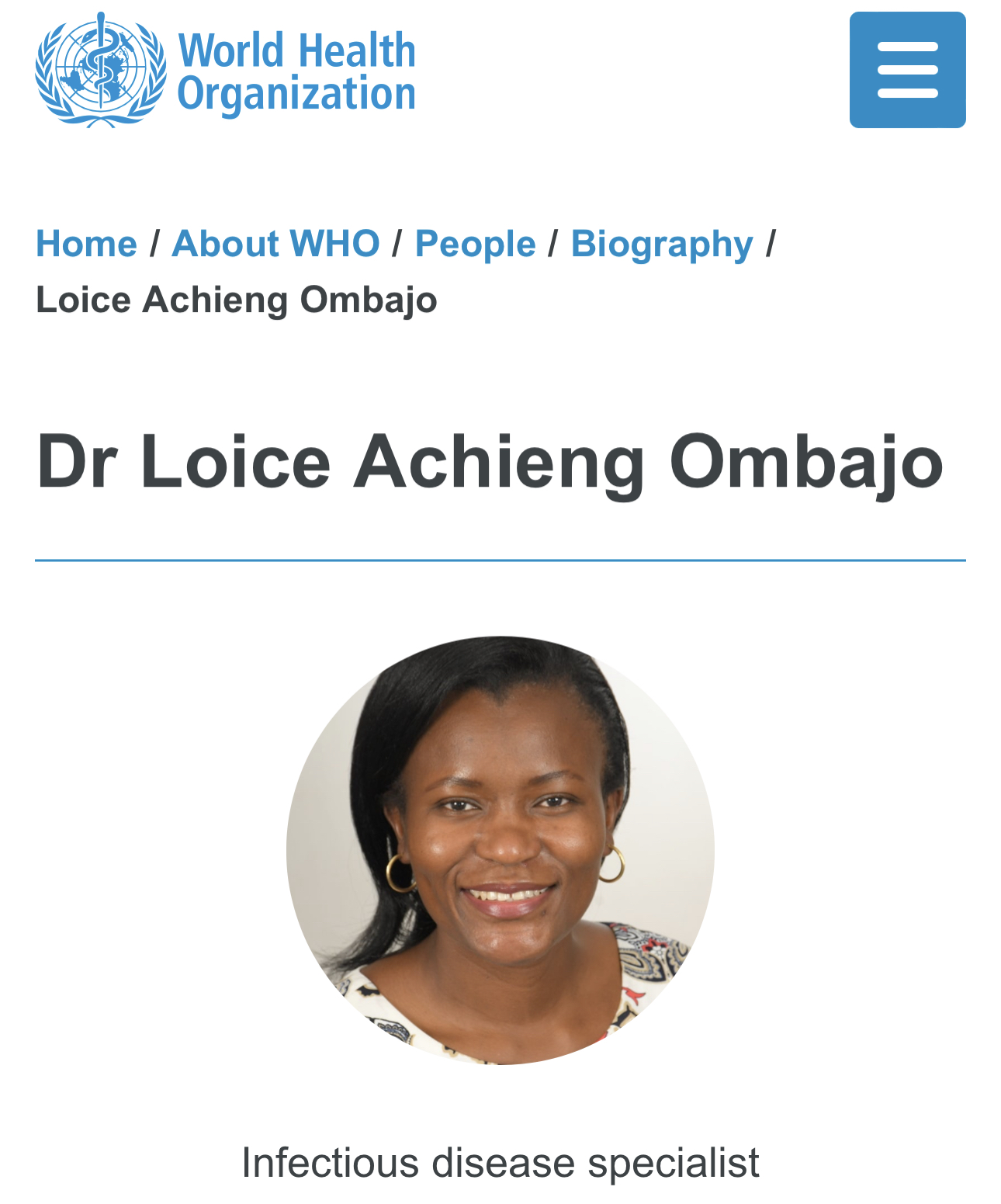 The meeting of the 24th WHO Expert Committee on the Selection and Use of Essential Medicines will be held at WHO Headquarters, Geneva, from 24 to 28 April 2023 to revise and update the WHO Model List of Essential Medicines (EML) and the WHO Model List of Essential Medicines for Children (EMLc). 
Applications for consideration by the Expert Committee consideration are published below.
Interested stakeholders are invited to submit comments on the application in PDF format via email to emlsecretariat@who.int by Friday 7 April 2023,18h00 CEST.
All comments and other information related to the meeting of the Expert Committee will also be published here as it becomes available.
All enquiries regarding the Expert Committee meeting or the application process should be directed to the EML Secretariat.
Dr Loice Biography
Loice Achieng Ombajo is an infectious disease specialist, Senior lecturer at the University of Nairobi Department of Medicine and co-director of the Center for Epidemiological Modelling and Analysis (CEMA). She has been a leading voice in informing the public health response to infectious disease threats in Kenya and beyond. She has led the National COVID-19 case management committee and served as a member of both the COVID-19 National task force and Education task force. Loice also leads work on understanding the ever-emerging threat of antimicrobial resistance in the country and on improving antimicrobial stewardship.  She has served as a member of the WHO EML Antimicrobial Working Group for the AWaRe categorization of antibiotics for the WHO Essential Medicines List and is a member of the WHO Expert Advisory Panel on drug evaluation. She chairs the Kenya National Technical Working Group of Antimicrobial Stewardship and well as hospital antibiotic stewardship committees. Loice's research interests include monitoring and preventing antimicrobial resistance, antimicrobial stewardship and HIV where she is currently leading large clinical trials on improved antiretroviral regimens including research on cardiovascular and bone disease in older persons living with HIV.  Her focus is on supporting data-driven clinical and public health policy decisions.